As of January 1, 2023 Stern Pinball has raised prices on all Pro, Premium, and LE machines. Pricing is now as follows: Pro models will be $6,999 Premiums models will be $9,499 Limited Edition models will be $12,999
---
If you've been thinking of purchasing one of the games we have in stock, we suggest you purchase sooner than later. On January 1, 2023 Stern will be raising prices on all Pro, Premium, and LE machines. Pricing will be as follows: Pro models will be $6,999 Premiums models will be $9,699 Limited Edition models will be $12,999
---
In our latest Pinball 101 we install a shaker motor into a Stern Mandalorian Pro. You'll learn how quickly and easily it is to do this.
---
Ever get a pinball machine that doesn't appear to power up? Sometimes the solution is very simple.
---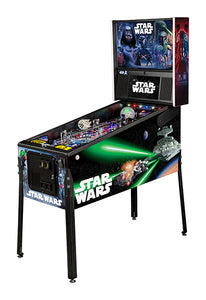 Pre-order a Star Wars pinball machines and you'll receive a special gift from Pixels & Pinball (while supplies last). Contact us for details.