I've had a lot of people asking me how the Stern home pinball machine compares to the typical Stern Pro and Premium machines. I put together this video to hopefully answer some of the questions people have had. https://youtu.be/xULtb5hrd4c
---
This week Stern will be announcing their latest pinball machine based on the iconic rock band Rush. If you are interested in a Premium or Pro machine please contact me so that I can put you on my list of people looking to get one. All of the LEs I've been allocated have been claimed, however, if you want a Limited Edition let me know in case someone on the list changes their mind.
---
After enjoying a couple of Saturdays off, I'll be at the store again on January 8th. If you plan to visit please make sure to bring a mask. The Board of Health in the town of Acton, MA  has issued a mask mandate for all indoor locations. I'm looking forward to seeing you. Also, a reminder, if you can't make it to the store on Saturdays, feel free to contact me about visiting the store at some other time.   
---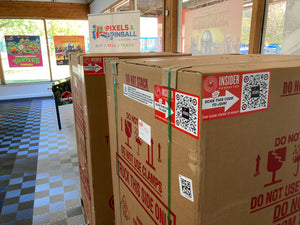 I have to say, I've been really blown away by the pinball community in MA and NH. I've had a lot of people stop into the showroom and the feedback has really been positive. There has really been pent up demand for a pinball dealer in the area and I'm glad I can provide a place where people can check out the latest offerings from Stern. A quick update on games, those who placed an order for Godzilla LEs are starting to get them. These last two I received are going to their homes today. Also of note, I should...
---
Well, I officially opened the store last week on Saturday but I hadn't gotten the word out. So I'm going to consider Wednesday night my first opening day/night. I had four people come in to try out the games. One of them came back today (Saturday) to buy a Teenage Mutant Ninja Turtles pinball machine! First sale! I also had a visitor come up from Brooklyn, NY. He was going to a Carnivorous Plant show in the area and decided to stop by and check out the machines. Super nice guy, even brought me a plant as a store-warming gift....