Pixels & Pinball has a new address.Our building was recently purchased and the new owner is knocking it down to build a car dealership. As such, we needed to move.We've moved 5 minutes down the road and closer to I-495 in Littleton.Starting this Saturday, November 11, 2023, our new address is:Pixels & Pinball320 Great RdLittleton, MA 01460
---
Learn how to take the wrinkles out of a cabinet decal on a pinball machine.
---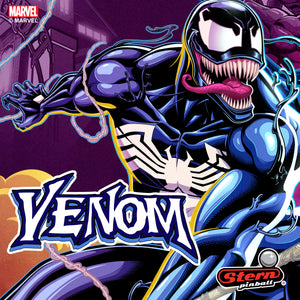 Stern Pinball has announced their latest game based on Marvel's Venom character. Venom, an alien symbiote that bonds with various hosts, including former Spider-Man antagonist Eddie Brock, first appeared in The Amazing Spider-Man comic book series in the '80s. The symbiote gives its host superhuman strength and agility, providing creative and versatile powers out of its material. Attached is a PDF the shows all of the differences between the different game versions: Pro, Premium, and LE. Check out the game feature matrix. Stern has also published the rulesheet based on the current code version.
---
We just received accessories for Rush pinball machines. We have the topper, Expression lighting kit, and shooter knobs. We have a limited supply so please reach out soon if you've been looking to add any of these to your machine.  
---
If you're a fan of the Foo Fighters, then you've got to do yourself a favor and check out the latest pinball machine by Stern. The Foo Fighters Pinball Machine is an absolute must-have for any die-hard fan of the band.